Huevos Tejanos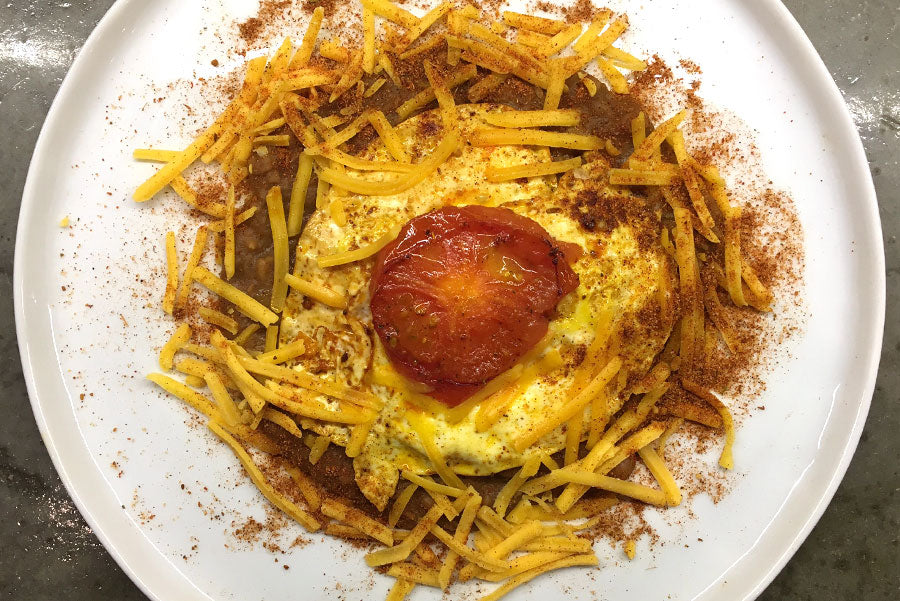 TIME: 12-15 Minutes
SERVINGS: 1
INGREDIENTS:
1 Can Refried Beans
1/4 CUP Water
2 Eggs
1 TBSP Olive Oil
1 TSP White Vinegar
1 TOMATO Sliced
1/4 CUP Shredded Cheddar
1 TBSP Chopped Cilantro
1.5 TSP Roaring Fork Spice TEJANO (Divided)
OPTIONAL: Salsa or Hot Sauce to taste.
DIRECTIONS:
1. In a saucer combine beans and water and heat.
2. While beans are heating, sauté tomato slices in oiled skillet—medium heat. Sprinkle 1/4 TSP of TEJANO seasoning and drizzle vinegar over tomatoes. Cook for 3-4 minutes. Turn tomatoes and sprinkle another 1/4 TSP of TEJANO seasoning. Tomatoes are done when they are soft and skin begins to wrinkle. Remove from skillet, set aside. 
3. In the same skillet as you sautéed tomatoes, cook two eggs to your preference. We recommend over-medium (firm whites, runny yoke)
4. Spoon heated beans onto a plate. Spread out with the back of the spoon. Place 2 eggs on top of beans. Sprinkle cheese over the top evenly. Place tomatoes. Spread cilantro evenly. Sprinkle TEJANO seasoning evenly.
OPTIONAL: If using hot sauce or salsa, drizzle over the top evenly to taste.
Leave a comment
Comments will be approved before showing up.