Kajang Stir Fry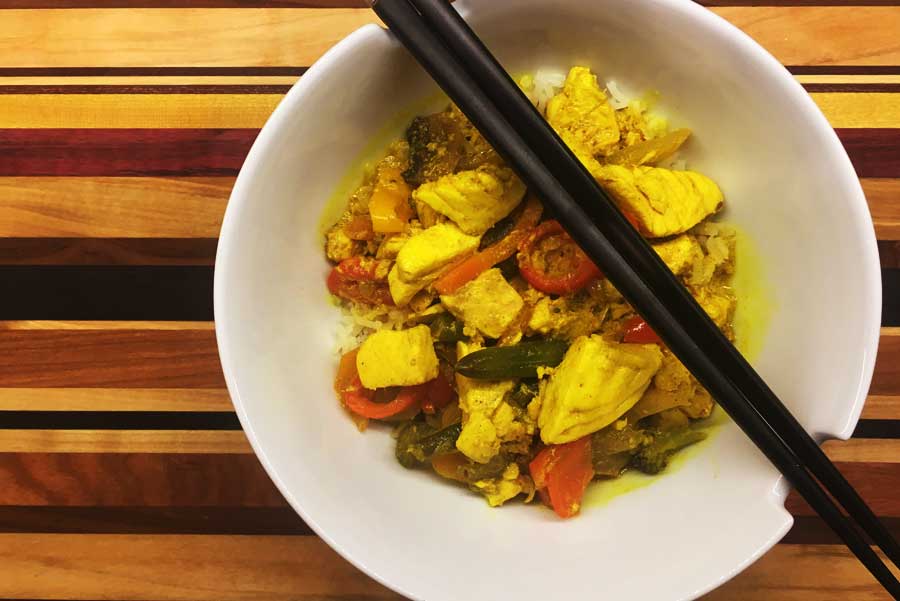 SERVINGS: 4
ALTERNATE RFSC BLENDS: Shankir, Hanalei, Montego
INGREDIENTS:
2 Chicken Breasts—diced (thin sliced beef, white fish or tofu can also be used)
1 Sweet Red Bell Pepper Chopped
1 CUP Green Beans
1 White or Yellow Onion Chopped
 4 TBSP Roaring Fork Spice Kajang
1/2 CUP Sweetened Coconut Milk, or Sweetened Coconut Water
1 TSP Soy Sauce or Tamari
1/4 CUP Chopped Cilantro
1 TBSP Fresh Lime Juice
DIRECTIONS:
1. In large, heated and oiled skillet (with cover), add, bell pepper, green beans, onion. Cook for about 5 minutes (until tender).
2. Add coconut milk, soy sauce, cilantro, lime juice, Kajang Thai Spice Blend, and chicken. Stir well. Cover and simmer, stirring occasionally—until chicken is cooked thoroughly (165° internal temperature).
3. Serve over rice or noodles.
Leave a comment
Comments will be approved before showing up.