Tejano Portobello Tacos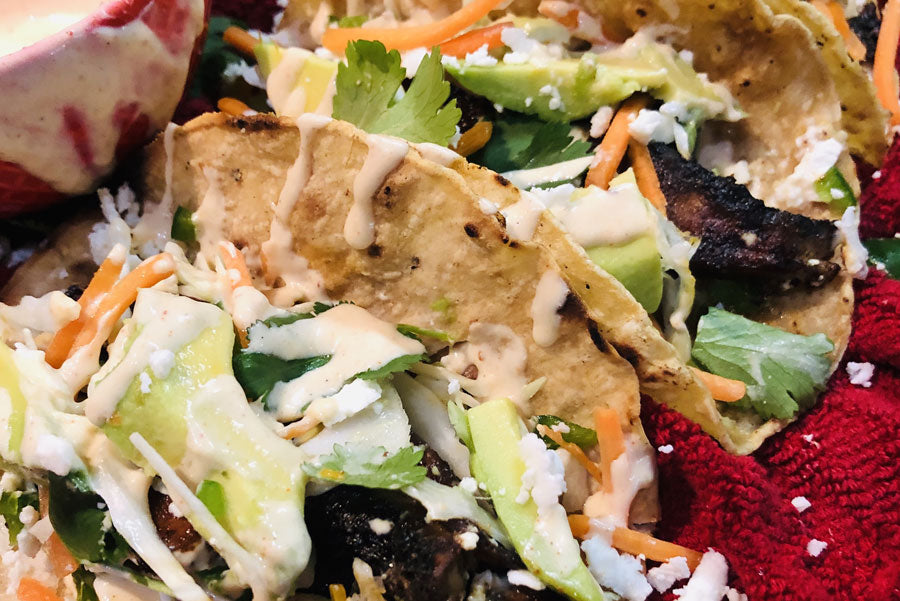 MAKES: 4 Tacos
INGREDIENTS:
8 Corn Tortillas
PORTOBELLOS
2 Portobello Caps—sliced in 1/2 inch pieces
2 TBSP Olive or Avocado Oil
2 TSP TEJANO Tex mex Blend
1/2 lime squeezed
GARNISH (use some or all of these in amounts to your taste)
Chopped cabbage or slaw
Shredded carrots
Diced jalapeño seeded
Sliced avocado
Mexican Cotija cheese grated
Cilantro
WHITE SAUCE (Mix ingredients in a bowl or blender, set aside)
1/3 CUP Mayo
1/2 CUP Sour cream
1 lime squeezed
1 TSP TEJANO
3 TSP salsa verde or other hot sauce
1/4 CUP Milk
DIRECTIONS:
1. In bowl toss portobellos, oil, lime juice, and Tejano blend to fully coat mushrooms.
2. Sauté in skillet until soft.
3. To heat tortillas dip in cold water quickly and heat on both sides in hot skillet until sear marks appear. If you heat tortillas well before making the tacos, cover with a clean towel.
4. Lay portobellos into 2 tortillas and assemble tacos with desired garnish (above) and drizzle white sauce over the top.
NOTE: You can make these with 1 tortilla each, but they may fall apart.
Leave a comment
Comments will be approved before showing up.